Spicy Blackened Ahi Steak with Mango Relish
Made With Ahi Tuna Steaks
Ingredients for Tuna
6 ahi steaks, cut from loin (6 oz. ea.)
6 tablespoons blackening spice, store bought or (recipe below)
3 tablespoons canola oil
Salt & pepper
Blackening Spice
¼ cup red chili pepper
3 teaspoons sugar
1 teaspoon black pepper
2 teaspoons salt
1 teaspoon onion powder
1 teaspoon garlic powder
½ teaspoon cayenne pepper
½ teaspoon oregano
¼ teaspoon dried thyme
Mixed all together, about 6 tablespoons
Ingredients for Soy-Mustard Sauce
2 tablespoons hot water
4 tablespoons Coleman's dry mustard
4 tablespoons soy sauce
1 cup white wine
¼ cups white wine vinegar
3 tablespoons shallots, minced
3 white peppercorns, crushed
½ cup heavy cream
½ lb. cold butter, cut into cubes
Salt & pepper to taste
Ingredients for Mango Relish
1 fresh mango, peeled, seeded, and diced (pineapple can be substituted if mango is not in season)
1 teaspoon olive oil
½ medium red onion, diced
1 tablespoon cilantro, chopped
1 lime, juiced
¼ teaspoon salt
Mix all together and keep refrigerated
Spicy Blackened Ahi Steak with Mango Relish
Serves 4
Directions
To prepare the sauce
In a small bowl whisk together the water and mustard to form a smooth paste. Slowly stir in the soy sauce until completely combined. In a saucepan over medium heat, bring the wine, vinegar, shallots and pepper corns to a boil. Cook until the liquid is reduced to about ¼ cup. Add the cream and return to a boil until enough to coat the back of a spoon. Remove from heat and whisk in the butter, allowing each piece of butter to melt before adding more, until all incorporated. Season with salt and pepper and strain into a clean saucepan. Slowly add the soy mustard mixture and stir until all thoroughly mixed. Keep warm; this sauce should not be refrigerated or reheated.
To prepare the tuna
Season the ahi steak on both sides with blackening spice. In a hot nonstick pan on medium-high heat using ½ tablespoon olive oil, sear the fish for about 1 minute. Take care not to burn the spices as it will create a bitter flavor. Gently flip the fish and cook for another 2 minutes. (Total cooking time will depend on the thickness of the steak). Fish should be cooked to medium rare or medium done.
Top cooked fish with mango relish and serve the warm soy mustard sauce on the side.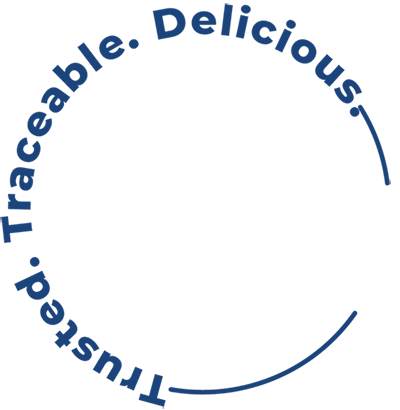 Bringing fresh, restaurant-quality seafood to you.
Bringing fresh, restaurant-quality seafood to you.