Mahi-Mahi With Ginger-Garlic Oyster Sauce And Crispy Chow Mein
Made With Mahi-Mahi Portions
Ingredients
4 Mahi-mahi fillets (6 oz. ea.)
2 tablespoons canola oil
Salt and pepper
1 lb. chow mein noodles
½ red bell pepper, seeded and julienned
½ orange bell pepper, seeded and julienned
½ yellow bell pepper, seeded and julienned
4 cloves fresh garlic, minced
3 tablespoons fresh ginger, minced
1½ cups water
3 teaspoons sesame oil
4 tablespoons canola oil
½ cup oyster sauce (Lee Kum Kee, Panda brand, Green label. No MSG.)
2 tablespoons cornstarch
Salt and pepper
Mahi-Mahi With Ginger-Garlic Oyster Sauce And Crispy Chow Mein
Serves 4
Directions
To cook noodles, add to a pot of boiling water for 1½ minutes, stirring occasionally. Drain, rinse with cold water, then drain again, until dry. Add 2 tablespoons of canola oil to a heavy skillet with medium heat. Add the well-drained noodles, slightly flattening into a round pile. Cook both sides until crispy, approximately 5 to 6 minutes. Blot off excess oil with a paper towel. Transfer to serving plates.
To make sauce, sauté garlic and ginger with 2 tablespoons canola and 3 teaspoons sesame oil. Add oyster sauce. Thicken with corn starch slurry (using water). Salt and pepper to taste.
For the fish, preheat oven to 350 F. Season Mahi-mahi with salt and pepper. In a large skillet using medium high heat, add canola oil. Pan sear Mahi-mahi fillets on both sides for 1½ minutes each. Put the skillet with the fillets in the oven for another 2½ minutes until firm to touch (medium well done). Place the Mahi-mahi on top of the noodles with vegetables, pour the hot oyster sauce around the edge of the noodles on each plate and serve immediately.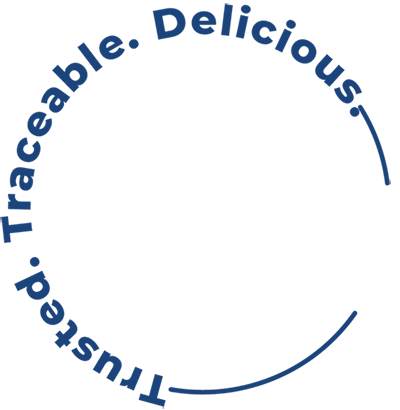 Bringing fresh, restaurant-quality seafood to you.
Bringing fresh, restaurant-quality seafood to you.